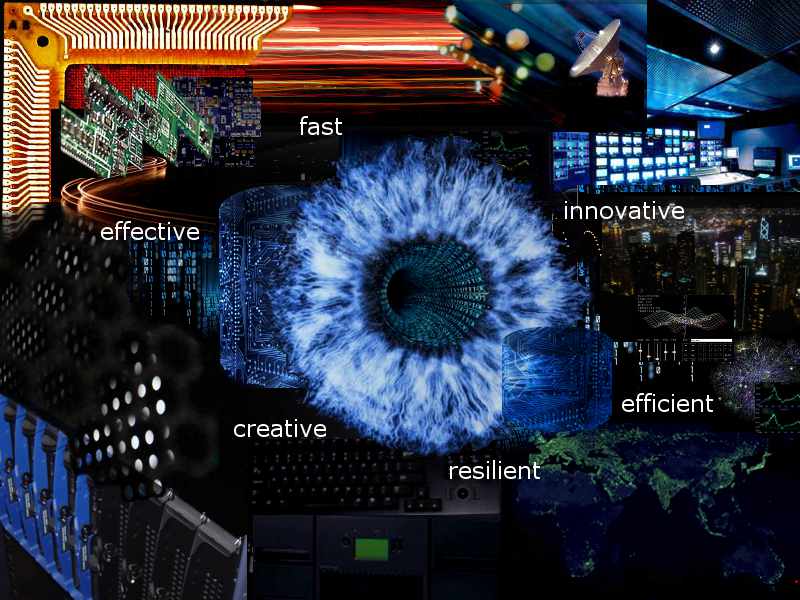 Process Management
Business Rules Management
Information Management
Customer Relationship Management
Financial Management
Security Management
Data Management
Data Replication
Common Definition:


"The frequent electronic copying of data to ensure consistency between redundant datasets with the objective to improve reliability."

This definition reflects the predominant use of Data Replication techniques to create timely copies of data for the purpose of Disaster Recovery (DR). However, having worked in the Operational Reporting field for many years, FIERCE recognises that Data Replication is also an ideal technology for improving the accessibility of data for reporting purposes.


FIERCE has refined and extended our definition of Data Replication to:

"The efficient, accurate, resilient and timely transfer of data across a network from one or more data sources to a common target database platform with the objective to improve reliability and accessibility."

This definition reflects the consolidated reporting requirements for:
Efficiency - minimal bandwidth, maximum throughput, minimal extraction and upload times
Accuracy - the target data should reflect a complete set of the source data at a point in time
Resilience - to prevent and recover from common replication faults
Timeliness - accurate reporting requires timely uploads and complete datasets
Network Capability - e.g. SAN, LAN, WAN, SSL connection across the Internet
Multiple Data Sources - e.g. files, spreadsheets, and databases in a wide range of formats
Common Target Database Platform - to promote a consolidated working environment and set of tools


A consolidated reporting environment provides significant benefits over reporting from multiple disparate reporting environments and platforms, including:
avoiding any performance degradation of running large scripts against operational systems
higher availability of reporting environments
improved manageability of reporting environments
the ability to easily query data spanning multiple database platforms
improved resource availability by reducing the report writers skillset to a single database platform
reduced cost by managing a single database platform for reporting
reduced license and training cost by using one set of reporting tools
reduced resource and training costs by using a single SQL syntax


Unfortunately, Data Replication is a complex activity that requires skilled resource and specialist tools. Many Data Replication tools are expensive, difficult ot use, require specialist resource to establish and maintain, and only have limited cross-platform support. To this end, FIERCE is currently developing a solution that will enable business users to manage their own data replication services. Our Data Replication solution will be available in June 2010.
Consulting Services
— enabling organisations to effectively manage programmes of change —
Business Engagement
The process of involving internal stakeholders to deliver business outcomes.
Effective business engagement involves establishing a strategic direction, clearly defining business outcomes, accurately identifying internal resources, providing effective communication, ensuring inclusive representation and participation in workshops, facilitating organisational agreement in output content, and providing managerial guidance.
Business engagement is essential for ensuring that an organisation works towards a common strategic vision and according to a framework that defines the behavioural expectations of internal stakeholders.
Business engagement is also a critical success factor in the implementation of ICT services and projects. Failure to suitably engage internal stakeholders is a common cause of ICT project failure. Contrary to the incorrect belief by many enterprise and solution architects, employees that work with the systems on a daily basis have a wealth of knowledge to contribute towards the implementation of replacement solutions.
The longer term benefits of engaging employees in the implementation process include improved service delivery, greater employee productivity, improved employee contributions, higher levels of staff retention, and greater work satisfaction.
Our approach enables the business owner(s) to take true ownership of the deliverables to the business. Technology is merely treated as an enabler to ensure that the deliverables are attainable. Part of our role is to provide the business with objective, clear and understandable advice regarding the approach and technologies that are available to solve the business problem(s). Our strength is in simplifying complexity.
Our approach ensures that the outputs and processes of the engagement are transparent to the business. Engaging key internal stakeholders throughout a project significantly improves the likelihood of a successful implementation. Our approach prevents academics and architects from retreating to their own quarters theorising impractical solutions to irrelevant problems.
FIERCE works closely with your business to ensure success.
Stakeholder Engagement
The process of involving external parties that have a vested interest in the organisations activities. The vested interest may relate to governance, funding, financial investment, temporal investment, culture, service provision, usage, connectivity and/or system integration.
Stakeholders often include the government, sector organisations, the organisation itself, associated organisations, investors, business partners, staff, unions, service providers, software vendors, clients and customers.
Stakeholder engagement is a critical success factor in the implementation of ICT services and projects. Failure to suitably engage stakeholders is a common cause of ICT project failure. Without suitable stakeholder engagement, stakeholders may withdraw their support and/or provision of the services provided and/or required, and may even be motivated to offer alternate and competing services.
FIERCE provides a broad range of Stakeholders engagement services, including:
facilitating Stakeholder workshops
presenting information to Stakeholders
capturing Stakeholder input, requirements and feedback
identifying, addressing and mitigating Stakeholder concerns
clarifying, adapting and including Stakeholder requirements
Strategic Planning
The iterative process of identifying the short, medium and long-term direction of an organisation, providing a roadmap on how those business outcomes are to be achieved, and stipulating how the progress of those outcomes are to be measured.

Strategic Planning serves a number of purposes within an organisation, such as:
Clearly defining the purpose(s) of the organisation
Forming a consensus regarding the organisationís direction, in turn developing a sense of ownership of the plan
Improving effectiveness by ensuring that organisational resources are targeted towards the key priorities
Establishing realistic goals and objectives consistent with those purposes within a defined timeframe and within the organisationís capacity for implementation
Communicating those goals and objectives throughout the organisation
Providing a basis from which progress can be measured
Establishing a mechanism for informed change when required
The key deliverables from a comprehensive strategic planning exercise are a strategic direction document, mission statement (purpose), vision statement (ideal), values statement (organisational culture), and a service framework.
An internally-focused service framework is a strategic blueprint containing the organisations own rules, guidelines, values and processes for the effective delivery of the outcomes stated in the strategic direction. The service framework is an active document to be referenced by management, and provides a mechanism to (a) encourage a consistent approach; (b) enforce organisational culture and values; and, (c) challenge unacceptable behaviour.
FIERCE assists organisations to establish and/or adapt their strategic planning documentation to provide a coherent, comprehensive and directed approach that can be actively referenced throughout the organisation on a daily basis.
FIERCE provides a broad range of strategic planning services, including:
strategic planning advice
strategic analysis
facilitating strategic planning workshops — internal + stakeholder
documenting and reviewing strategic planning documents
identifying, analysing and documenting business outcomes
identifying, analysing and documenting deliverables
developing service frameworks
Organisational Change Management
The process restructuring an organisation to support the delivery of business objectives.
Structure supports process, and incorrect structures may obstruct processes.
FIERCE advocates the creation of lean, business-driven, functional organisational structures that promote the full accountability of each management tier. In order to be fully accountable, the manager must have both control of and responsibility for a well-defined functional domain.
For example, organisations that are information technology driven rather than business-driven often fail, unless of course those organisationsí core business is information technology. In a functional organisational structure, information technology is merely a service that is performed for the business.
FIERCE provides confidential advice and analytical services to executive management to assist in the alteration of their organisational structure, behaviour and culture to enable the delivery of the organisationís strategic vision.
Our organisational change management services predominantly focus on:
Identifying structural failure within an organisation
Collecting, collating and analysing organisational information from employees, management, stakeholders and clients to document the current organisational structure status
Developing and documenting alternate organisational structures to resolve identified issues
Decomposing organisational structures into functional domains
Consulting with management regarding suitable options
Obtaining feedback from affected parties
Resolving change management issues
Software Services
— enabling organisations to create quality software solutions —
Research
The discipline of investigating and discovering a solution to a problem.

FIERCE provides a broad range of software research services to enable our clients to realise their concepts into working prototypes.
Analysis
The discipline of understanding how existing systems work and how to adapt those systems to meet changing requirements.

Software Analysis is a methodical process generally involving the following tasks:



Understanding
identify scope — it is important to restrict the domain of the analysis
understand the domain — review existing documentation, talk to developers and end-users
divide and conquer — a software solution can always be broken down into varying levels of abstraction, and initially treating certain sections as "black-box" is advisable
observe from multiple perspectives — structures, patterns, inputs, outputs, top-down, bottom-up
track — trace code execution to improve understanding of states, sequencing and errors — white-box
review data artefacts — grey-box
document — map how everything fits together so that others may follow
Solution Identification
map business requirements to system requirements
identify technical options on how to adapt the system to meet system requirements
identify capability, viability, cost, and resource availability
identify structures and algorithms that may assist development
identify and assess scenarios for change
document, present and recommended system changes
FIERCE is skilled at finding order within chaos. Chaos may be in the form of your undocumented and difficult-to-understand code, distibuted systems, complex systems with messaging, or even a set of business requirements. Our significant experience in object oriented development and working with complex systems enables us to quickly understand, document and adapt your systems.

In addition to providing the core Analysis Services listed above, FIERCE provides the following independent assessment services:
system architecture review — overarching design and use of technology
system implementation review — programmatic approaches, structure, code quality and contractual conformance
system audit — structural, process, code and data errors
system security audit
Design
The process of specifying the nature and composition of a software solution that satisfies client business requirements and constraints.

FIERCE can assist your organisation to design practical software solutions to satisfy your business requirements and constraints.

FIERCE provides a broad range of platform-independent design services, including:
understanding and clarifying Business Requirements into System Requirements
specifying external-facing interfaces — e.g. Web Service interfaces, form design
specifying software structures — Object Oriented Modelling, Unified Modelling Language (UML), Class Diagrams
specifying algorithms — complexity, processing efficiency
specifying sequencing — Data Flow Diagrams, Method Stubs, Use Case Diagrams
specify message passing
specifying data structures — Data Models, Entity Relationship Diagrams (ERD), stored procedure interfaces


FIERCE also factors platform-dependent design considerations into our solution design, such as:
choice of interface
interface look and feel
network infrastructure
middleware
server environment
database platform
development environment
software languages
efficiency
reliability
skilled resource availability
funding constraints
expected solution longevity
time constraints
licensing restrictions
Our design services will enable organisations to meet the challenges of increased system complexity, scale and rate of change of technology. Our designs only utilise technology with proven results in a business context, and are founded on best-practice approaches and over 20 years hands-on experience in working with interfaces, web, software and database technology.

Whilst FIERCE has specialised in developing solutions using Microsoft's platforms, our design services are platform-independent, and can be used to develop solutions on a range of enterprise development and database platforms.


Development
The process of converting a design concept into a reality.

FIERCE specialises in developing solutions using Microsoft's development platforms, including:



Enterprise Solutions Development
Operating Systems: Windows 2000/XP/7.0, Windows Server 2000/2003/2008
Development Environment: Visual Studio 2005/2008/2010
Development Languages: Visual C++, Visual C#, Visual Basic & ASP.NET, Dynamic-HTML, Javascript, Windows Shell Script
Solution Platforms: Web-browser, IIS, Microsoft .NET framework, XML Web Services, CLR, ATL, MFC
Database Platforms: SQL Server 2008 using Transaction-SQL (T-SQL)
Application Software Development
Application Software Platform: MS Office (MS Access, MS Excel, MS Word, MS Outlook), Adobe Acrobat
Development Environment: MS Office Development Platform
Development Languages: Visual Basic for Applications (VBA)
Development Approach: Rapid Application Development (RAD)
Database Connectivity: Data Access Objects (DAO), ActiveX Data Objects (ADO), Client-Server ODBC (e.g. MS Access to SQL Server), Web Services
FIERCE has exclusive access to a world-class MS Access developer with over 15 years experience in implementing MS Access database solutions (e.g. tables, queries, forms, reports, visual basic for applications code, security, client-server access, MS Office integration, data migration etc.). Contact us if you need help with your MS Access database(s).
Testing
The process of ensuring that the solution performs to specification and as intended.


FIERCE provides a complete range of testing services, including:



Systems Testing
Unit testing (White-box) — ensuring that classes and methods perform to specification using low-level pre- and post-conditions
Grey-box testing — ensuring that data is modified according to specification
Functional testing — ensuring that overall classes and solution provide a coherent solution
Performance Testing
Integration Testing
identify faults in interfaces
identifying faults in the interaction between dependent and/or connected components
User Acceptance Testing
Black-box testing — ensuring that the overall solution performs to specifications by testing various scenarios
Grey-box testing — ensuring that data is modified according to specification pre- and post-each test scenario
Usability testing — ensure that the interface is acceptable to end-users
Regression testing — ensuring that the rest of the system is performing to specification
Non-functional Testing
Performance testing — ensuring that the solution performs actions within acceptable timeframes/li>
Load testing — ensuring that the solution performs under peak loads
Stability testing — ensuring that the application continues to work over an extended period (e.g. n a multi-user environment without deadlock scenarios)
Scalability testing — ensuring that the solution will continue to perform as data grows
Security testing — attempting to hack into the system (e.g sql injection)
Usability testing — ensuring that the interface is acceptable to end-users (UAT function)
Internationalisation testing — ensuring that the solution works using international language, currency and time-zones
Robustness testing — attempting to cause the solution to fail
Implementation
The process of releasing solutions from a development environment into alternate environments, such as system test, user acceptance test, pre-production and production.

Environment Configuration



The setting, recording and testing of parameters to ensure that an environment behaves consistently and/or as intended.
Disparities between Production, Disaster Recovery, UAT, System Test and Development environments can result in difficult to identify system errors. An inconsistent environment can unnecessarily delay a software release, and can even void test results approved for production release, resulting in errors that may be impossible or costly to reverse in Production.
Ad hoc changes to a System Configuration can similarly adversely impact the reliability of operational systems.

Release Management



The process of ensuring that solutions and solution version updates are released into environments in an accepted manner.


Installation



The discipline of consistently releasing software into various environments in an automated manner.



FIERCE provides services to assist organisations with the effective management and documentation of solution releases to promote reliable consistent implementations.
Maintenance
The process of ensuring that a solution continues to provide a pre-defined level of service.

Software Maintenance is commonly required to:
maintain Service Level Agreements (SLA) with stakeholders
correct software faults post-implementation
improve performance - e.g. database performance-tuning
ensure scalability
adapt software as a result of environmental change - e.g. platform migration
FIERCE provides a technical software maintenance service to ensure that your solutions are well maintained.
Repair
The process of significantly altering a solution due to extensive failure.

FIERCE provides a broad range of services for the extensive repair of solutions that have failed or show signs of failure, including:
altering solution architecture - hardware, middleware, software
adapting the solution to a Service Oriented Architecture (SOA) using Web Services
refactoring code to take advantage of the Object-Oriented paradigm
restructuring underlying databases and data interfaces (stored procedures)
reworking end-user interfaces
Platforms
The environments used to develop and implement software solutions.

FIERCE specialises in developing solutions using the following platforms:

Operating Systems
DOS 6.2
Windows 95/98/2000/XP
Windows Server 2000/2003/2008
Unix
Solution Platforms
Web-browser: Internet Explorer / Firefox / Opera
Internet Information Server (IIS)
Active Server Pages: ASP, ASP.NET
Microsoft .NET framework
XML Web Services
Microsoft's Common Language Run-time (CLR)
Microsoft's Active Template Library (ATL)
Microsoft Foundation Class (MFC)
Windows Console
Microsoft Office - MS Access, MS Excel, MS Word, MS Outlook
Development Environments
Visual Studio 2005/2008/2010
Eclipse IDE
Microsoft Office
Development Languages
Browser-based: CSS, Dynamic-HTML, ECMAScript, HTML, Javascript
Eclipse-based: C++, Java
Microsft Applications-based: Visual Basic for Applications (VBA)
Microsoft .NET Framework-based: Visual Basic, Visual C#, Visual C++
Database Platforms
SQL Server 7/2000/2005/2008 using Transaction-SQL (T-SQL)
Oracle 7/8i/9/10g using PL/SQL
DB2 7/8/9 using DB2 SQL
MS Access v2.0/95/97/2000/XP/2007 using Visual Basic for Applications (VBA)
Graphics Editors
Adobe Creative Suite 3 (CS3) Master Collection, incluidng Photoshop and Flash
CorelDraw
GIMP
Microsoft Paint
Data Services
— enabling organisations to effectively manage their data and retrieve quality information —
Data Analysis
The process of discerning information from data.

FIERCE has significant experitse in analysing data, including:
querying data via SQL scripts and QBE tools
discovering and mapping patterns in data
interpreting data into meaningful information
discerning whether the data collected can be used for the intended purpose
retrospectively defining meta-data from forms, system logic, requirement documentation, relationships, and the data itself
establishing and maintaining data dictionaries
determining how to adapt data models and elements to facilitate information retrieval
providing quality audits of data

Unfortunately, many databases are poorly structured and poorly documented, which limits the usefulness of the database for providing quality information.

Data models, relationships and meta-data (data about data) are essential for accurately understanding a database, and efficiently converting data into quality information. To this end, FIERCE promotes and provides services for the establishment and organisational use of:
Entity Relationship Diagrams (ERD)
Data Dictionaries (as detailed in the Data Services | Data Definition section)

Data Dictionaries assist in the analysis of data into meaningful information by:
defining the database elements (e.g. fields, tables, schema) and the relationships between those elements
collecting, preserving, managing and presenting meta-data in a meaningful, consistent and coordinated manner
becoming a single point of collective knowledge about data
ensuring that knowledge is passed on from systems analysts to developers to information users
enabling report-writers to generate correct information without the need for domain specific knowledge.
Data Capture
The process of obtaining data via various channels, including forms, files, scans, web services, data and communication networks, and other instruments.

FIERCE specialises in the efficient and effective collection and storage of data through many channels. Technical challenges exist for each channel, for example:

Form Capture
form design
data to capture
layout
identification — barcodes, identifiers
tab ordering
keyboard short-cuts
codes tables lookup
autocompletion
validation
File Capture
data to capture
file specification — TXT, CSV, PSV, XML, HL7
file security — network, encryption, signing
receipt channel — e.g. cd, usb, lan, wan, ftp, http
validation — DTD, parsing
identification — uniqueness
non-repudiation of data — ensuring data cannot be lost
guaranteed delivery — receipt acknowledgement, resubmission if not acknowledged, resubmission on error/li>
error handling
persistence of data
Scan Capture
form design
data to capture
identification — uniqueness
optical character recognition (OCR) — acceptable thresholds, human intervention
error handling
statistics reporting
Web Services Capture
interface design
data to capture
identification — uniqueness
interface security — network, encryption, signing, digital signatures
receipt channel — e.g. cd, usb, lan, wan, ftp, http
error handling
statistics reporting
FIERCE is able to assist your organisation to ensure that you capture the right information in an efficient and secure manner.
Data Design
The process of structuring data and databases for efficient storage of data and retrieval of information.

This definition's distinction between data and information is important. In our experience, many databases have only been designed for the IT objective of manipulating data, and the primary business objective of retrieving quality information is only an after-thought.

Having provided database reporting services for over 20 years, FIERCE consultants ensure that databases are designed with the business objective of retrieving quality and timely information. The efficient storage, structure, collection and manipulation of data are merely pre-requisites for achieving this objective.

FIERCE provides the following Data Design services
Data Modelling - designing and mapping relational database structures using normalisation rules
Database Design - database configuration, designing and scripting database objects (DDL)
Database Development - scripting stored procedures to interface and manipulate data
Database Optimisation - performance tuning, indexes, clustered indexes, denormalised datasets for efficient reporting
Database Refactoring - reorganisating the structure of a database to improve efficiency and data quality
Data Storage and Retrieval Advice - recommending how to best proceed
Data Definition
The process of defining data elements to aide in analysis, design, development, and reporting.

Meta-data is commonly defined as "data about data" or more technically, "the definition of data elements, including descriptions, attributes, qualities and usage". Meta-data management has become an essential requirement for the effective management of complex systems and data repositories.

Data Dictionaries are designed to enable an organisation to effectively manage their meta-data.

The benefits of establishing and maintaining a Data Dictionary include:
preserving organisational knowledge of data within the organisation rather than within indivdual minds
ensuring software developers utilise database fields correctly
ensuring database developers expose the correct information through stored procedures
ensuring that operational report writers are able to efficiently extract quality information from organisational databases
promote the sharing of domain knowledge amongst resource and throughout the organisation
empowering information users to request information
empowering external stakeholders to query exposed datasets
Whilst the use of Data Dictionaries is steadily growing, many organisations are yet to embrass this technology. However, organisations should be made aware of some of the inherent risks in failing to effectively manage meta-data, such as the:
potential loss of organisational knowledge when indivduals leave
reduced skilled resource productivity
increased likelihood of poor design and development decisions
longer time for specialist report-writer resource to understand the domain
inaccurate reporting of information resulting in porr managerial decisions
organisation not representating a sufficient level of data service maturity to stakeholders
FIERCE provides a service for the establishment of data dictionary technology, and the collection of meta-data from subject matter experts, systems, systems analysts, data architects, database developers, and report writers. We understand that databases tend to evolve over time with growing complexity and size, and that a data dictionary may have not been previously required or considered to be important. Nevertheless, it is important to capture your organisational knowledge about data without delay. Obtaining this knowledge after the loss of key resource is often problematic, difficult and without a doubt more costly.
Data Management
The process of managing, cleansing, transforming, migrating and replicating data.

FIERCE provides a broad range of Data Management services, including
Operational DBA Services
Data Cleansing
Data Transformation
Data Migration
Data Replication
Data Security
The process of establishing, managing and monitoring permissions to data.

To correctly enforce Data Security, rights to data must be managed from multiple aspects,such as:
Accesibility Channel: Internet, SSL over IP, VPN, WAN, LAN
Network Permissions
User Identification
User Roles Management
Role-Based Access to Database Objects (e.g. Database, Schema, Table, Fields (via Views and Stored Procedures)
Role-Based Access to Interface Objects (e.g. Forms, Form Functioanlity,Web Services, ODBC, OLEDB, ADO)
Password Management — Password Strength, Change Frequency, Encryption
Change Records
Database Audit Logs
Access Monitoring for Privacy
Licensing Models
FIERCE provides the following Data Security services encompassing the aspects listed above:
Data Security Management
Data Security Advice
Data Security Audit
Data Presentation
The discipline of presenting information sourced from databases to an audience.

FIERCE is adept at presenting information retrieved from databases in an automated and meaningful manner and in a variety of formats, including:
BMP — Bitmap Image Files
CSV — Comma Separated Value
HTML — HyperText Markup Language
JPG — Compressed Image Files
PDF — Portable Document Format (Adobe Acrobat)
TXT — Fixed width and delimited TeXT files
XLS — Microsoft Excel worksheets and charts
XML — eXtensible Markup Language
Database Reporting
The discipline of extracting quality information in a timely manner from data storage repositories.

FIERCE provides advanced database reporting services, including:

Operational Reporting
Information Requirements Definition
SQL script development to access OLTP data on enterprise database platforms: DB2, Oracle, SQL Server
QBE and SQL script development to access OLTP data on corporate database platforms: MS Access
Post-extraction analysis and support
Establishing denormalised data sets and indexed views for greater reporting efficiency
Extraction of large volume of data
Script automation and scheduling
Analytical Reporting
Analytical Information Requirements Definition
Data Warehouse Architecture
Data Warehouse Design - Dimensional Modelling
Data Mart Design - subsets of the data warehouse data designed to address discrete business domains and processes, which use common shared dimensions from the Data Warehouse to prevent inconsistencies in analysis and reporting across domains
Data Preparation - Data Cleansing, Data Transformations, Data Validation
Analysis and Reporting - Analytical Services, OLAP queries and analysis, and Data Mining
Custom Application Development - designed to enhance data warehouse administration, and the analysis and presentation of data
Database Platforms
Environments for managing and retrieving data

FIERCE consultants have more than 20 years experience designing, developing, delivering and reporting on the following database platforms and versions:
SQL Server v7, 2000, 2005, 2008
DB2 v7, v8.0
Oracle v7, v8i, v10g
MS Access v1.0, 2.0, 95, 97, 2000, 2002, 2003, 2007
FIERCE continues to provide data management and reporting services (SQL scripting) expertise for all of the stated platforms and versions.

However, due to the variation in stored procedure languages used by the various enterprise database platforms, FIERCE has begun limiting its development of database solutions to Microsoft's database platforms:
MS SQL Server with T-SQL, and
MS Access with VBA
Web Services
— enabling organisations to take advantage of the Internet and their corporate intranets —
Website Design & Development
The process of creating content for the Internet and corporate intranets

FIERCE provides a comprehensive range of website design and development services, including:
Graphic Design
Content Layout Design
Adaptable Presentation — Cascading Style Sheets (CSS)
Content Collation and Review
Content Management
Interactive Content
FIERCE currently uses HTML, Dynamic HTML (DHTML), Javascript, ASP.NET, and Microsoft Internet Information Server (IIS) as the platform for developing websites.
Web-Enabled Application Development
The process of creating applications capable of being used over an IP network, such as the Internet, VPNs and corporate intranets.

FIERCE specialises in developing web-enabled applications using the following platform:



Presentation Layer: Client Interface
Web-browser — Dynamic HTML, CSS
Web-browser — Silverlight plug-in (under-assessment)
Web-browser — Adobe Flash plug-in
Windows Forms
Presentation Layer: Server (required for web-browser interfaces)
ASP.NET on Microsoft Internet Information Server (IIS)
Business Logic and Rules Layer
Database Back-End
SQL Server 2008 (and previous versions as required)
Stored Procedured developed using T-SQL
FIERCE utilises a common XML Web Services infrastructure and Back-End Database development platform, which enables us to provide a robust and secure mechanism for accessing database content irrespective of the interface to be used.

FIERCE offers multiple interface options, as each interface provides comparative advantages, disadvantages and challenges with regard to:
interface usability
portability (i.e. OS platform independence)
adaptability
complexity
development tools
development time
development cost
skilled resource availability
maintenance facilitation (i.e. deployment)
XML Web Services
A mechanism for engaging services on a remote machine using XML as the protocol for sending requests and responses.

XML Web Services have replaced Remote Procedure Calls (RPC) as an improved mechanism for engaging services on remote machines. The XML protocol for the request and response of the services enables data to be sent over a network without causing undue security and cross-platform communication issues.

Please note that the XML in 'XML Web Services' only relates to the protocol 'wrapper', and that the payload of the XML message may be any type of data, such as an image, file or even comma separated data.

FIERCE provides the following Web Service services:
advice on how to use Web Services as part of a Service Oriented Architecture (SOA)
technical advice on the implementation of Web Services
design and analysis of Web Services infrastructure
development of Web Services using Visual Studio 2005 (and above).
review and audit of Web Service infrastructure and usage
Website Hosting
The service of serving web-pages and applications to end-users via the Internet.

FIERCE is currently in the process of establishing its own website hosting services with database connectivity.
Research
Research & Development
In addition to providing expert ICT Services for organisations, FIERCE continues to invest in the research and development of advanced data management software. Our research and development expertise spans the following technologies:

Data Dictionaries
Data Presentation and Dissemination
Cross-platform Data Replication
Data Migration
Business Rules Engines
Intuitive Interface Components
Security Infrastructure

FIERCE is currently using the following platforms and tools for its own development:
Development Environment: Visual Studio 2005/2008/2010
Development Languages: Visual C++, Visual C#, Visual Basic & ASP.NET, Dynamic-HTML, Javascript, VBA 6.0
Solution Platforms: Web-browser, IIS, Microsoft .NET framework, XML Web Services, CLR, ATL, MFC
Database Platforms: SQL Server 2008 using Transaction-SQL (T-SQL)
Operating Systems: Windows 2000/XP/7.0, Windows Server 2000/2003/2008
Graphics Editors: Adobe CS3 Suite, GIMP

Our investment is designed to translate into a suite of world-class data management products over the next 5 years.
Contact
Background
FIERCE SYSTEMS LTD has been providing quality advice, and software, database and web-enabled solutions under the FIERCE brand since our incorporation on 22 January 1998. The FIERCE brand represents our relentless drive for delivering solutions that are Fast, Innovative, Efficient, Resilient, Creative and Effective.
Contact Information
If you have any questions regarding the services that FIERCE can provide to your organisation, please do not hesitate to contact us:


Postal Address:
FIERCE SYSTEMS LTD
PO Box 637
Wellington 6140
NEW ZEALAND

Telephone:
+64-21-671240
Email:
sales@fiercesystems.com
Careers
Consultants and Contractors
FIERCE is always looking to identify potential consultants and contractors for roles that may become available. We would be interested in hearing from you if you are an expert in any of the services that FIERCE provides.
Administration and Support
Press Room
1 January 2010
FIERCE releases a new website design to mark the start of the new decade...
Glossary
Acronym Reference
ASP
Active Server Pages
(or dependent on the context) Application Service Provider
BPMN
Business Process Modelling Notation
BPR
Buisness Process Re-engineering
CLR
Microsoft's Common Language Run-time
CRM
Customer Relationship Management
DBA
DataBase Administrator
DDL
Data Definition Language
DML
Data Manipulation Language
ERP
Enterprise Resource Planning
ICT
Information and Communication Technology
OLAP
Online Analytical Processing
OLTP
Online Transaction Processing
PKI
Public Key Infrastructure
QBE
Query By Example
SaaS
Software as a Service
SOA
Service Oriented Architecture
SQL
Pronounced S.Q.L. or SeQueL
UAT
User Acceptance Test
VBA
Visual Basic for Applications
VPN
Virtual Private Network
Term Reference
Application Service Provider
A business that provides software services to customers over a network (e.g. web-based applications over the internet using the HTTP protocol). An ASP may have developed its own software or may maintain licenses from 3rd party software vendors. This service provided by an ASP is commonly referred to as "Software as a Service (SaaS)", and the benefits of the ASP / SaaS model are listed in the SaaS definition (below).
External Stakeholders
A party or group of people outside of the organisation with a vested interest in the organisation's activities. The vested interest may relate to governance, funding, financial investment, temporal investment, culture, service provision, usage, connectivity and/or system integration. External Stakeholders often include the government, sector organisations, the organisation itself, associated organisations, investors, business partners, staff, unions, service providers, software vendors, clients, customers and potentially the public.
Internal Stakeholders
A party or group of people within the organisation (often with a unique perspective of the organisation), such as Empoyees, Contractors, Teams, Team Leaders, Groups, Managers, Executive Management
Service Oriented Architecture
An architecture that uses web services to integrate systems on disparate operating systems, database platforms and/or software platforms. This architecture can help to remedy immediate integration issues, especially when a system on an alternate platform cannot be replaced. However, one must understand that creating a "wrapper" around poorly performing or poor quality systems will not resolve any underlying issues of those systems. The complexity arises in designing the web service interfaces to ensure that the current and any replacement solution can utilise the same interfaces.
Software as a Service
A model of software deployment whereby an Application Service Provider (ASP) licenses an application to an organisation for use as a service. In this model, the ASP (potentially including the SaaS software vendor) often hosts the application on their own servers, and controls the access of the end-users to the service. Web-enabled applications and aplications that run well on virtual servers (e.g Citrix) are good candidates for SaaS.

The key benefits of SaaS are:

reduced hardware infrastructure investment
reduced depreciation expense
reduced hardware maintenance costs
reduced support costs
reduced operational costs through shared licensing and non-concurrent usage
timely software licensing updates
improved best practice implementations and support as the ASP will have specialist knowledge
improved backup and disaster recovery procedures
improved software licensing conformance and management
greater ability for customers to scale and scale-back on-demand
greater ability for new entrants to enter a market without the capital overhead and technical infrastructure

The inherent disadvantages of the SaaS model include:

Inability to enhance the solution as provided by the vendor
Dependence on the ASP for delivery of the service, which may be a business critical function
Difficulty in moving from one vendor to another
Without good Service Level Agreements, the level of service may vary
Integration with the client's non-ASP systems may be problematic

The inherent risks of the SaaS model include:

ASP financial stability
ASP application security over the network
ASP security of personnel, including vetting
ASP access to confidential and sensitive data

SQL
Standardised language for manipulating and reporting from relational databases.

Enterprise database vendors understand that there is a benefit in conforming to the ANSI standard for promoting portability and utilising a common developer skillset. However, most vendors will implement slight variations to the ANSI SQL specification due to interpretation and product evolution. Whilst the ANSI standard provides a good common basis for manipulating relational databases, vendors generally provide significant extensions to the specification to support their own development community. This divergence creates significant variations between the various vendor's implementations, especially in regard to stored procedure langauges (e.g. Oracle's PL/SQL and Microsoft's T-SQL).
Stakeholder
A party or group of people with a vested interest in the organisation's activities
Help
Online Support
Please email support@fierce.co.nz if you have any technical questions or faults to report about this website.